Jul 29, 2020 01:33 PM Central
Terra Macklin
Everyone needs a good BBQ sauce! You may ask, why make it?
Because trust me when I say you know exactly what is in your sauce and only you can make it taste this amazing without added refined sugar!
The amount of dates needed is really up to you. We use dates for the low glycemic affect to our bodies and because it is a natural source of sweetness without being altered multiple times.
This recipe is great for anyone who takes pride in making their own flavorful sauces. It is also a great option for those looking for a low glycemic sauce option.
Check out my boys making it below.
Recipe
12 pitted dates, soaked and peeled
14 oz can tomato sauce
1/4 c coconut aminos
1/4 c balsamic vinegar
1/4 c apple juice or orange juice
1 tsp each: salt, smoked paprika, chili powder, garlic powder, onion powder, dry mustard
1/2 tsp cayenne pepper
1/2 tsp black pepper
So here is how this works
Soak your dates

You will start to see the outer peel coming off, that is when they are done soaking

Peel the outer skins off of the dates and put into your high speed blender or food processor (we use a food processor)

Process until smooth

While processing your dates, warm up your pan of tomato sauce and seasonings

Once the dates are done, add to the tomato sauce

Cook on med low for about 20 minutes

The sauce should thicken

Allow to cool and then run through a strainer when pouring into a glass storage container

Sauce will store for about a month (if it lasts that long)
Enjoy!
Terra
Jul 15, 2020 05:23 PM Central
Terra Macklin
cravings, food freedom, Keto, lifestyle, Low carb, nourishment, PCOS, PCOS Food, PCOS Lifestyle, PCOS support, PCOS Thriver, PCOS Whole 30, Polycystic Ovarian Syndrome, Whole30
I love potatoes...like I am a third generation American from Ireland (father's side)...love potatoes! So when summer time comes around, potato salad is a regular feature in our home.
However, in working to clean up the way that I eat a bit, I was in search of an alternative.
While potatoes are a great source of carbs, I was looking for a way to cut back on them a bit.
Again, nothing wrong with potatoes, and nothing wrong with carbs. For me, I needed this recreation of my favorite summer dish.
You can watch my son and I recreate this dish to see for yourself how it works.
Recipe
2 medium sized Cauliflower Heads
Oil of choice (for roasting cauliflower..we use Olive Oil or Avocado Oil)
8 to 10 slices of bacon, cooked and crumbled
4-6 hard boiled eggs
Salt and Pepper
21 Seasoning Salute (optional)
½ c Mayo (we use Primal Brand or make our own)
Random splash of Pickle Juice
½ c or more of Mustard
¼ c of Relish
Smoked Paprika (also optional)
Instructions
Pre-heat oven to 425 degrees F
Chop up cauliflower into pieces and place on a parchment lined sheet pan
Drizzle oil over the cauliflower and season with salt, pepper, and 21 Seasoning Salute
Roast in oven for 30 to 40 minutes to desired roastedness...not a word, but it is today!
Cooking and crumble bacon
Chop up Hard boiled eggs (we love making ours in a instant pot)
Mix together all remaining ingredients but the paprika in a bowl
Once the cauliflower is done, allow it to cool down for 15 to 20 minutes
Once cooled, add cauliflower, bacon, and hard boiled eggs together in a bowl with your sauce
Mix until everything has an even covering of sauce
Then sprinkle paprika on top if you are choosing to use it
This recipe is great for anyone who is low carb, keto, Whole 30, or just looking for another way to enjoy cauliflower.
Whole 30 was the way I figured out what foods served my body and which ones did not. If Whole 30 is something you are considering, grab my free guide for 4 Reasons to Give Whole 30 a Shot.
Happy Eating!
Terra
Jul 1, 2020 10:25 PM Central
Terra Macklin
Lifestyle change, PCOS, PCOS Food, PCOS diagnosis, PCOS help, PCOS Lifestyle, PCOS natural treatment, PCOS remedies, PCOS support, PCOS Thriver, PCOS Whole 30, Polycystic Ovarian Syndrome, Whole30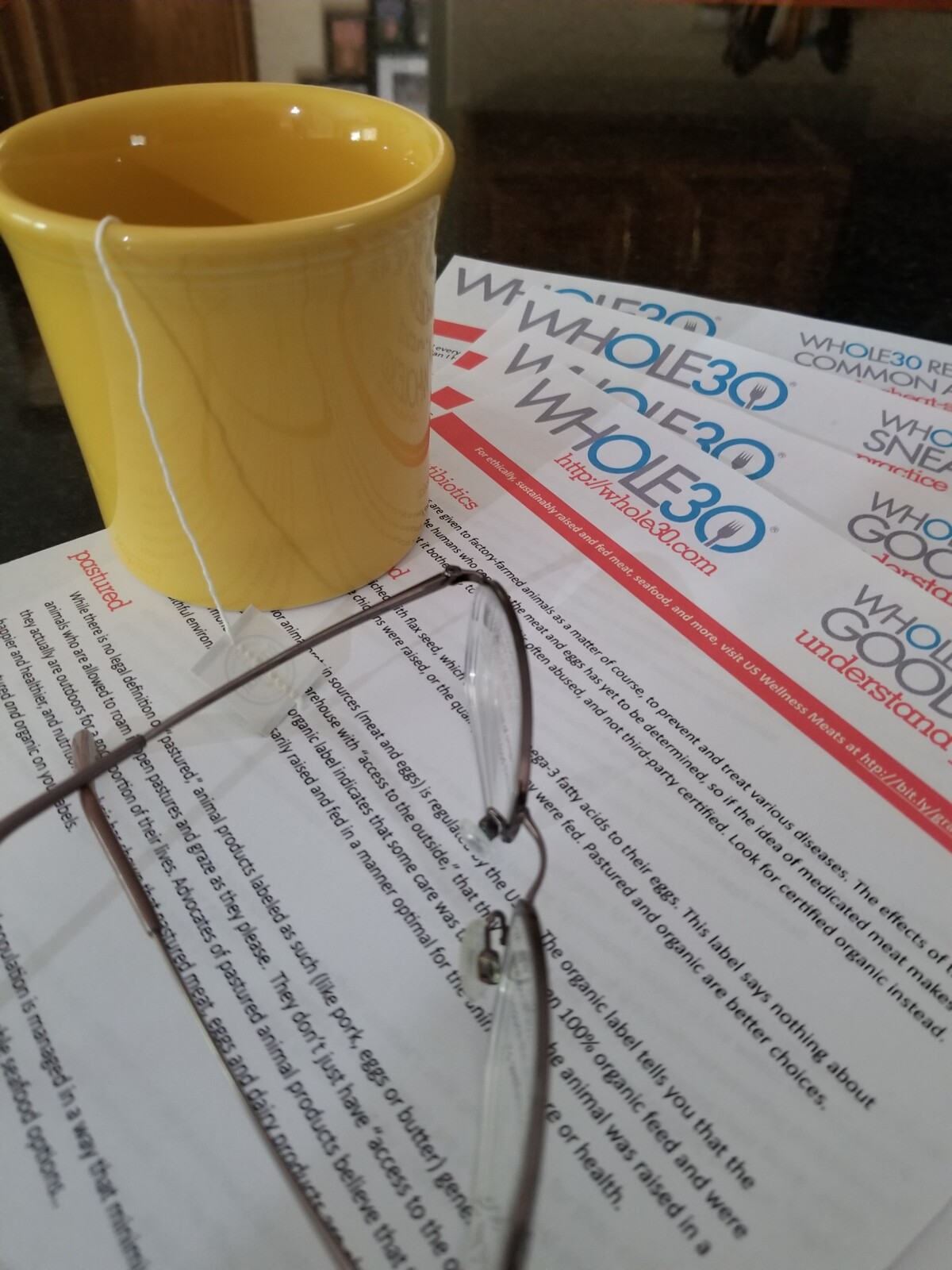 There is so much advice out there am I right?
This person says give up dairy and gluten. The next says Keto. Another says eat Paleo. Go low carb. Or, kick all of those ideas to the curb and Intuitively Eat. Oh and do not forget to Intermittent Fast while doing all of this!
Which one do you do? Which one will work? Well the answer is they all work, but which one will work best for you. That is the key!
What worked for Sussie may not work for Samantha. We all have different types of PCOS, mental relationships with food, and dietary limitations.
This is why I am actually going to throw another idea into the ring of suggestions. Why am I doing this to you? Because it has been the most helpful tool in figuring out how to clean up the way my family eats and it helped me find foods that do not serve my body.
See if I were to do traditional Keto, my body would be in a world of hurt! I would conclude that the bloating and constipation I would experience would be enough reason for me to count that as a failure and quit.
If I went all Paleo, I would miss out on great fiber sources from legumes. I love green beans cooked in bacon you all, so that would be tough for me. Plus I make fantastic black bean brownies!
While I do believe there is something to the intuitive eating, just because I am craving that lasagna in front of me does not mean I should eat it because I am feeling it. I know my body does not do well with both gluten and dairy.
I do not believe followers of this style are saying eat things that do not serve you. They are just trying to rebuild a positive relationship with food. I am always down for that.
I just know for me, I have to have ground rules. For me, those Cheetos and Soda will never be on the menu! However, if I eat a couple of potato chips, I will not hate myself later.
Lastly, I am a fan of intermittent fasting. Though I know it is not for everyone.
I always suggest to people to take baby steps. Also if your body is telling you to eat that breakfast or dinner (depending on when you start and end your time off from eating), then you should probably eat at least something.
So why Whole 30? This video will break it down for you.
Does this sound like something you would be interested in? Would you like to test this out?
I am doing a trial run of Whole 30 which will be turned into a bigger challenge in August. Let's test the waters together and see if this is doable for you.
Let's connect and I will send you a guide with reasons why Whole 30 is a critical tool to your PCOS journey.
Most importantly, I will also get you hooked up with a group to help support you through this process. Support is important when making potential lifestyle shifts.
Are you in?
Terra